If you have to work between a lot of different operating systems on a frequent basis, or you need an extra layer of security for your system or files, then ImDisk Virtual Disk Driver is the perfect solution to your virtual machine needs.
How to Download ImDisk Virtual Disk Driver
You can download the program for free by following the button located below this review.
The Program Review
What is a virtual disk driver?
A virtual disk driver allows you to simulate a hard drive on your computer for testing purposes or other uses in a virtual environment.
For example, you can use a virtual disk driver on Mac OS to run a Windows application.
---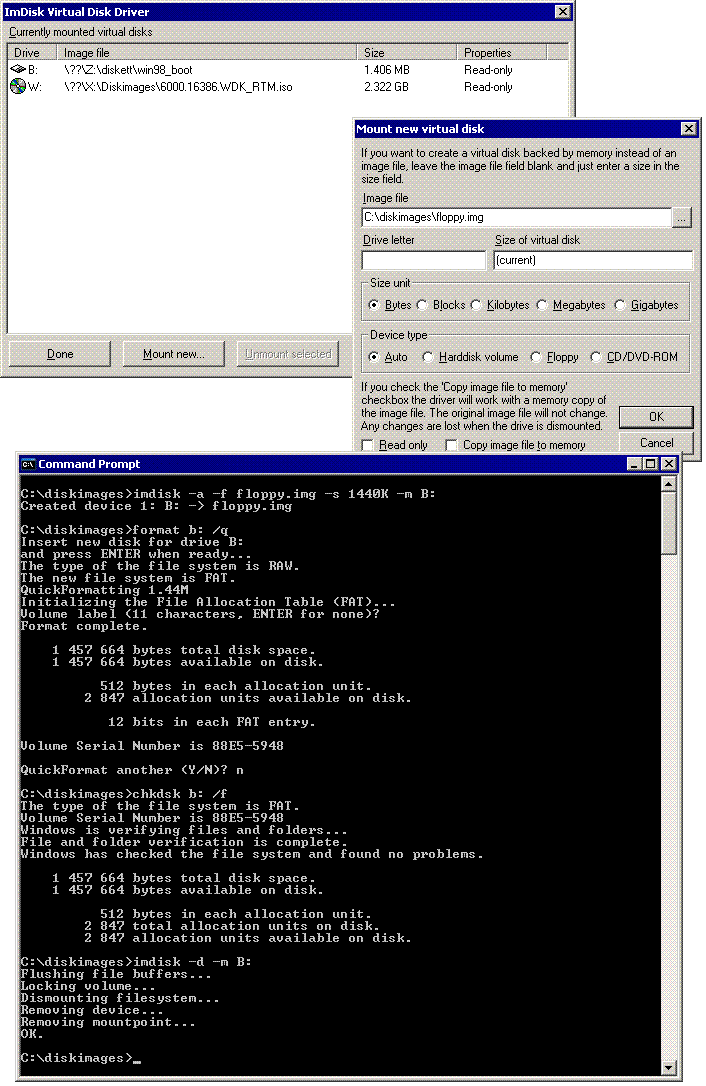 ---
Used by everyone from programmers to software security experts, virtual disk drivers let you do things in an isolated environment that doesn't affect the rest of the machine.
The software can create a virtual hard disk or other physical memory drive using image files or system memory.
It is compatible with Windows NT. Windows 2000, Windows XP, Windows Vista, Windows versions 7,8,8.1, and 10 as well as Windows Server 2003/2003 R2/2008/2008 R2/2012/2012 R2 in both 32- and 64-bit editions.
When installed, it puts a console-mode control program called imdisk.exe which can be accessed from the control panel applet. Accessing it is as simple as a double click or running it from the command prompt. If you need to uninstall it, you can do so without having to restart your computer.
Another goodie is the additional driver, called awealloc. What it does is that it allocates physical memory and never uses a page file. Without awealloc driver, ImDisk can allocate virtual memory in the system process. Without awealloc in the 32-bit versions of Windows ImDisk is limited to allocating virtual memory within the 2 GB (or 3 GB) address space from physical memory below 4 GB. This effectively limits ImDisk usage without awealloc on 32-bit versions of Windows.
ImDisk Virtual Disk Driver comes with a pretty barebones interface and isn't the most user-friendly program – at least, not at first.
You can download an add-on called the ImDisk Toolkit which is basically nothing less than a complete interface revamp for the program.
Keeping in mind that the software has robust compatibility across almost every version of Windows released over the past twenty years, it isn't hard to see why the devs have kept the default interface basic and universal.
The ImDisk Toolkit updates this entirely and makes the program more intuitive to use based upon what current iteration of Windows you are using. That means that the menus and UI will mimic that of the current Windows build. It really makes using the program a lot easier and it helps a lot if you're unfamiliar with old-school Windows command prompt programs.
While the tool is compatible with nearly every released version of Windows, this doesn't mean that it is compatible with all programs released for that operating system over the same period.
A lot of these compatibility issues can be traced down to ImDisk Virtual Disk Driver emulation of disk volumes rather than complete hard drives. For example, you cannot set mount points or drive names in the soft like you could if it were a real hard drive. For full disk emulation, the creators of the tool offer Arsenal Image Mounter for those purposes.
In fact, MadDownlaod.com contacted the author of the program Olof Lagerkvist and this is what he said on the issue.
Since the basic driver design of ImDisk is more than 20 years old now, it has lots of compatibility issues on modern versions of Windows. It might affect everything from using it for temp folders or web browser cache to using it for storing setup packages. There has not been much development on the driver for many years because of this. We have more modern and compatible solutions where this is an issue for users. For example:
https://arsenalrecon.com/downloads/
.

ImDisk Virtual Disk Driver
ImDisk Virtual Disk Driver lets you create a virtual drive of any kind, for example, an image of a CD or DVD. Download it now and enjoy its capabilities.
ImDisk Virtual Disk Driver Review Summary