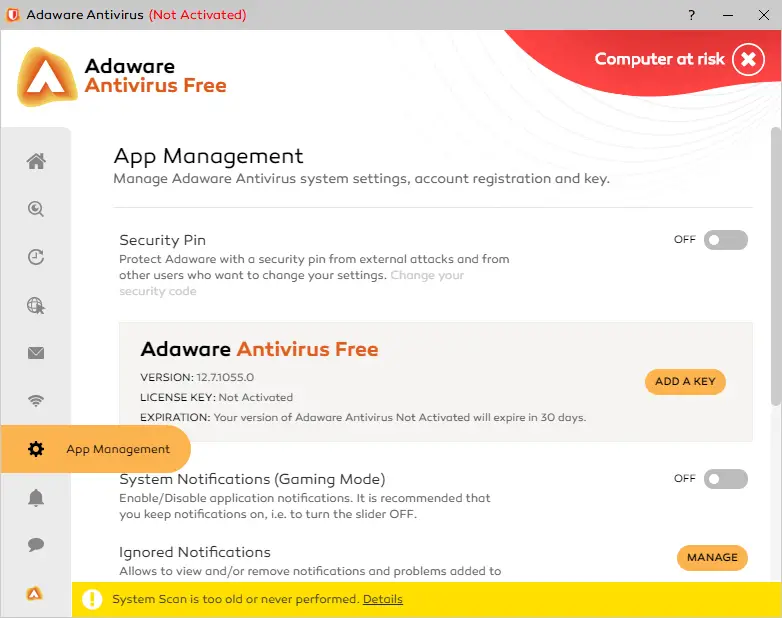 With so many viruses out there, it's easy to see why most of us are wary of potential problems that might arise. The most challenging thing when you are dealing with viruses or malware is that they can end up getting control over your data or even damaging it. The best thing you can do is to have a way to fight these viruses, and with the Adaware Antivirus, you can finally do all of that. The application is designed to help you stay away from computer threats all the time and this way you can focus on the things that matter for you.
How to Download Adaware Antivirus Free
You can download the program by clicking the button which is located at the end of this review. Besides the free version, there are also Pro and Total editions with more features such as a firewall or file shredder.
The Program Review
What Adaware Antivirus does is it automatically stays in the background and it will offer real-time protection against any type of viruses. It's built to work against viruses, spyware, ransomware, trojans and pretty much all types of malware out there. It's one of those tools that really work to your own advantage, and the results will be great in a situation like this. You will need it just because it's very efficient and the outcome itself will shine thanks to that.
To make things better, Adaware Antivirus also has download protection. It will scan the files you are downloading, so you will know if those files can end up damaging your computer. It's definitely a good idea to protect your computer the best way that you can, and with the Adaware Antivirus, you can do that all the time.
Of course, the free version of this app can only do so much. If you want some additional tech support, for example, they will offer that to you very quickly if you choose te Pro version. That version also has web protection, and you can shop and bank safely online. These additional tools will make it easier to stay safe when you use the app, and in the end that will help you quite a lot.
---
---
To make things even better, Adaware Antivirus Pro also has a firewall, so you can stay away from network issues and intruders. It helps you quite a bit because it's efficient and you will receive notifications as needed.
The Pro version will also give you email protection and in the end that can lead to a better way to stay safe online. They also have a network protection system, which means in case of any network attacks you will know when to deal with this and how to do it.
The Bottom Line
All in all, Adaware Antivirus is very good and it certainly delivers a good way to keep your system away from hackers and scammers. It covers just about all types of malware out there, it's very dependable and easy to use, but it can also be customized and it will deliver a very good experience. All you have to do is to test the free version and if you like it you can go with the paid one for the additional tools like online banking support, web protection, firewall, network, and email protection.

Adaware Antivirus Free
Adaware Antivirus Free is a security tool that will add a basic layer of protection to your Windows machine. Download it now.
Adaware Antivirus Free Review Summary