iConStruct is a portable tool that can be installed for both Windows and Mac (written in Xojo, a cross-platform development tool). It's an easy-to-use application and doesn't require much in terms of technical expertise. It's a free tool, which means you don't have to pay for it. Just download the version that you need, and you are good to go.
As it's a portable app, so you don't have to worry about the installation process. This app is basically created for developers, programmers, and users who are looking for a simple way to create icons. All you have to do is load an image, and within a few seconds, you'll see an icon on your screen. So, we can say that it's fast and provides the results in no time.
How to Download iConStruct
To download the program, click on the Download button at the end of the review. Check out also other free programs by Roger Meier, such as CoolTerm and BatchTouch.
The Program Review
Do you have to create icons all the time? Don't know how to create icons fast? Creating icons for your website or an app can be a difficult task if you don't know much about graphic design. Some people use online tools for creating icons, but still, it can be time-consuming and requires a lot of work.
iConStruct is a reliable choice for those who don't have much time and want to create icons. This software makes sure that you can get different icons at a time. It works for different operating systems. In addition, you don't have to install this tool as it's a portable app and can run anywhere.
---
---
However, keep in mind that you have to extract the complete folder; otherwise, it will not work properly. Once the app is opened, you can drag the image and can make necessary changes.
Under the main image, you can find different options that you can use to do the settings.  You can even adjust Threshold, add brightness, and much more.
A Tip from Roger Meier, the Author of iConStruct
iConStruct actually
works best for images with a light background
that someone may want to convert to icons of different sizes. For example, an icon with a lighter background (as an example I took yours and turned the surroundings gray), you can set the threshold so that the background is excluded from the mask, making it transparent. Then, if you have very light features in the image that you want to retain and not turn transparent, you can turn on "
Fill holes in the masks
". An example screenshot of MadDownload's edited icon is shown below.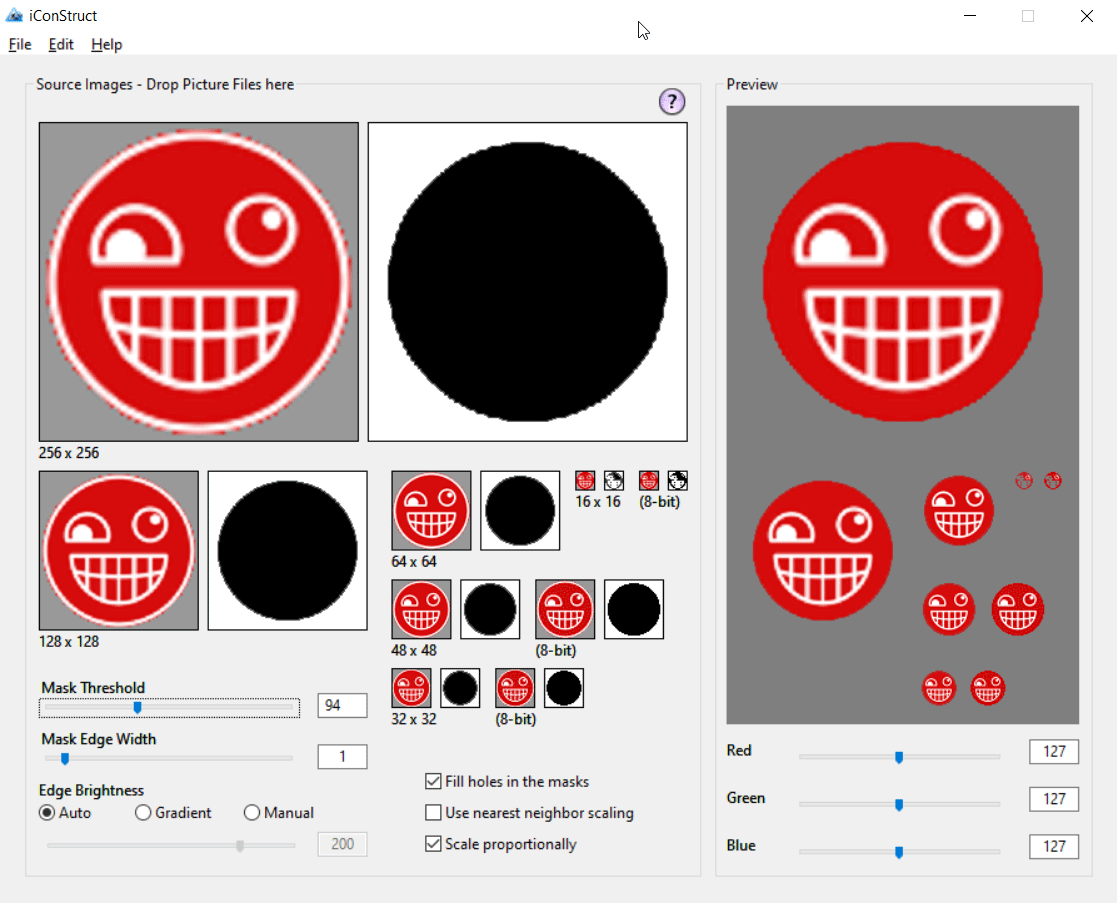 The Key Features of iConStruct
Below are the essential details of iConStruct that will help you to understand more about this software.
User-Friendly Application
It's a simple and manageable app. You can effortlessly download it and can create different icons. This tool doesn't require any installation process, all you need to do is download the image, and you are good to go.
Preview of the Icons
It does have a preview option from where you can see changes performed with your image. In case, if you don't like the final result, you can change it quickly by previewing the images.
Automatic Size Generator
Resizing images can be frustrating, but not anymore. This program makes sure to resize the images automatically, so you don't have to adjust the settings of your images.
Several Editing Options
It provides you with several editing options, including threshold adjustments, brightness, width, and much more.
Creates Multiple Files
Once you are done with the changes, it will create multiple icon files that will help you choose icons for your website.
Final Verdict
If you want to create icons for your work, this program is an ideal choice for you. It's a straightforward utility and doesn't require much space. Besides, it is easy to use the app and doesn't require help from experts.

iConStruct
iConStruct is a useful graphic editor that can be used to create icons with masks in different sizes. Download it now
iConStruct Review Summary