Speedtest For Windows is a desktop application that helps you to check your internet speed.  Using this app, you can find information about down speed, upload speed, and ping. It's the easiest way to find out information about your internet connections.
This tool was created by Ookla, and they have other similar speed test tools available for iOS, Android, Mac, etc. It can also diagnose performance issues and can provide valuable details. However, if you don't know this program, we have complete information for you, which will help you to see how this software works.
How to Download Speedtest
To download the program, click on the Download button below the review.
The Program Review
Around 4.39 billion internet users are available in the world and are active in different hours. Having this amount of users can make internet connection sluggish. That is why it's essential to have knowledge about how an internet connection works and how you can check the speed test.
However, not having proper knowledge about your data speed won't help you to resolve internet issues. That is why Speedtest by Ookla is the ultimate way to check performance and speed. This app can easily check your internet connection and will provide you with all the essential details.
Almost 25 billion tests have been carried out by using this software. Whether you are using it on Windows or Android, you can find all the details in no time. They do have an online version named Speedtest.net from where you can check speed easily.
---
---
In case if you want to download the app, you can install it in your Windows, iOs, Android, Google Chrome, and Apple TV.
This tool doesn't restrict any router, which means no matter the connection you have, you can get information on your dashboard. In short, we can say that it's an accurate way to get network diagnostics.
How Does It Work?
If you want to carry out a speed test on Windows, you can download the application from the official website. There are two ways to do that. One is getting the link from Microsoft, and the other one is choosing 64-bit and 32-bit versions.
Once you are done with the downloading, you'll be asked to run the setup. Keep in mind, if you don't have Microsoft Visual C++, you can't run this program. Therefore, first, make sure to install it to start the process.
After installation, you will be moved to the dashboard. On the panel, you can see the "GO" option. Click this option, and SpeedTest will start to check your internet speed. Within a few seconds, you will see different options including, Ping, Download Speed, and Upload Speed. In addition, below the "GO" option, you will see network details and internet names.
Here are some details about the information that you can find on the dashboard.
Ping: Ping is basically used to test the reachability of a specific host. Ping can be useful for gamers when they want to play games online. From the image, you can see my Ping is 18ms.
Download: From the download, you can see how much your downloading speed is. It basically shows how much data can be pulled from the server. It is measured in megabits per second.
Upload: You can see the upload speed as well on the dashboard. The upload speed refers to how much data you can send from your computer to another device or server. It is also measured in megabits per second.
Jitter: Jitter helps to find variations in the latency between two different devices.
Packet Loss: It helps to find details of packet loss and how you can resolve them.
You can see other things on the dashboard, such as Test details, Highest Speed, AVG Speed, Result History, Date, etc. From the history section, you can see how much time you have tested your internet speed.
Other Speedtest Applications
Apart from the Windows version, you can find different other versions of SpeedTest too. Below are some essential details about these apps.
Speedtest For iOS
Want to check your connection speed for your iPhone? You can do it easily by downloading an app from the App Store. You check essential details such as upload, download, ping, jitter, and packet loss. It is available in almost 17 different languages. Around 28 billion tests are done using this app.
For Android
This app is also available for Android. You can track your last test results and can see real-time graphs. In case if you are having issues with your network, you can click the troubleshoot option to find the problems.
For Mac
Ookla has also created a speed test program for Mac users. You can download this app from the official website and can run the test. It also helps to provide information about packet loss and jitter.
For Chrome
You can download the free SpeedTest extension available for Chrome. This will help you to check speed straight from your browser.
For Apple TV
Is your Apple TV not working correctly and not providing good signals? Don't worry; this app for Apple TV will resolve your issues in no time. You can diagnose connectivity issues and can easily find details about your internet connections.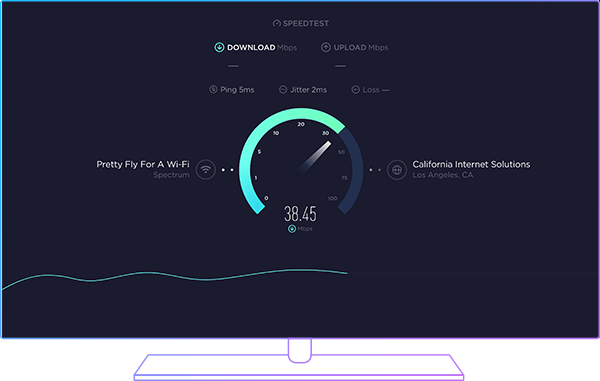 SpeedTest CLI
This app is created for software developers, system administrators, etc. Those who love to play with the command line and use this app to find the internet speed. You can easily find details about performance metrics using this app. The results can be viewed in CSV, JSONL, or JSON format.
Speedtest VPN
You can secure your connections through this application. It works for both iOs and Android devices. You can also get 2GB free data with this app.
Features of Speedtest For Windows
Here are the important features that you can find in this program.
Tracking Test Results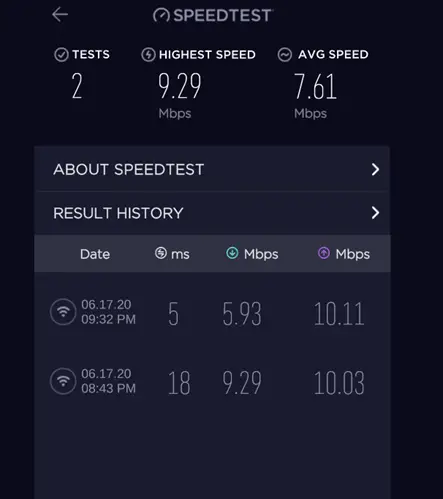 You can easily track test results and find how many times you have done the speed test. You can see all these details from history.
Measuring Internet Performance
It helps to provide all the essential details of internet connection metrics, including ping, download, upload, jitter, and packet loss.
Support for Different Languages
It is available in 17 different languages.
Online Version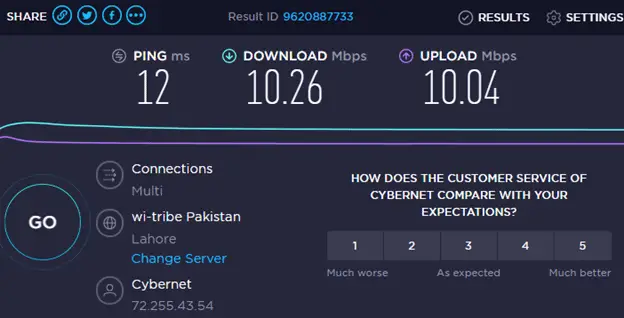 In case you don't want to download the app, don't worry, you can check speed from the online version. The online version helps to provide all the details, including connections, device names, and IP addresses.
Easy to Use
You don't need any technical expertise to use it. All you have to do is click the "GO" option, and you are good to go.
Final Verdict
Checking your internet speed is not difficult if you have the right tool. Using this software, you can find connection details, speed details, and much more on different devices. It is available for almost all operating systems.

Speedtest
Speedtest is a free program that lets you measure the upload and download speed of your internet connection as well as your ping. Download it now.