R2D2 Translator is a small desktop application that is written in RealBasic. The main purpose of this application is to translate the texts into the R2D2 language (the Star Wars robot). The R2D2 language consists of whistles and beeps, which are commonly linked with robots. I am sure that you have heard these types of sounds in different movies such as Star Wars.
It is a portable app which means you don't need to install it. Just download the tool from the website, extract it, and use it. In addition, it doesn't have complicated menus. Just enter the text that you want to be translated, and you are good to go.
Furthermore, this software doesn't require much expertise as you just have to enter the text in the English language, and it will automatically translate the text for you. So, if you have ordinary texts and want to hear that beep sound, this program is the best choice for you.
How to Download R2D2 Translator
To download the program, you need to click on the Download button that is located below this review. Check out also other useful tools by the same author (Roger Meier) such as CoolTerm or MathSheetGenerator.
The Program Review
I am sure many of you have watched Star Wars and must be wondering about the sound that trash can-shaped droids always make. Most of you must have ignored it as well. However, what if I told you that there is a long story behind that sound? In other words, it was an R2D2 language. This language is developed after entering texts in English.
---
---
Moreover, many R2D2 Translation apps have been created so far, and one of them is the R2D2 Translator. It's a simple utility and doesn't cause any issues for beginners. Besides that, you don't have to learn anything to use it. Just enter the text, and you will get the results in a few seconds.
Apart from that, it's important that you understand the sound that this tool will make. Most probably, you will hear the sound of a beep.
How to Use It?
As I have mentioned above, you don't have to do anything as this software is simple to use. You just need to run it on your PC, type the text that you want to be translated, and press Enter. Within a few seconds, you will hear the sound according to your text.
Furthermore, you can also easily resize the window by clicking and dragging the mouse. To quit the app, all you have to do is right-click anywhere on the dashboard and select the option Quit. You can also click on the About R2D2 Translator, and it will display the information.
The Key Features of R2D2 Translator
The important features of this software are mentioned below.
Simple to Use
You can easily use it without asking for help from the experts. Moreover, it doesn't require any technical expertise, which is a plus point of it.
Translate Long Text
It helps you to translate long text. So, if you have more than 30 words and want to do the translation, this software will do it in no time.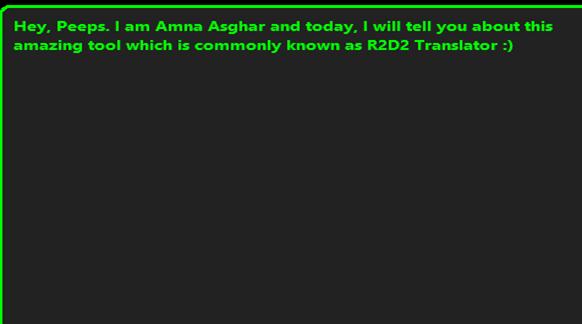 Adjust Settings
You can easily adjust settings and can manage the window of the panel accordingly. It will allow you to expand it as much as you want.
Final Thoughts
This tool is available for both Windows and Mac. Besides that, it can also convert long texts without causing any issues.

R2D2 Translator
R2D2 Translator is a cool program for Star War fans. Whatever you type in its fancy-looking editor will be then read aloud by the famous robot from the saga. Download it now.
R2D2 Translator Review Summary